Have you ever been in a debate over the most popular alcoholic brand? You would probably lose if you're in a room with a spirit fanatic. The 22-year-old Kweichow Moutai, China's go-to alcoholic brand, is valued more than Heineken, Budweiser, Carlsberg and the maker of Smirnoff, Captain Morgan, Black Label and Guinness combined.
Valued at more than $345 billion, Kweichow Moutai is the largest company in realm of alcohol, and is ranked as the 5th most valuable company in the Asian continent, just inches behind tech tycoon Samsung, and the 2nd largest firm in China. How did the liquor emperor rise to fame, and is it still a top performer?
Rise of the Phoenix
The Chinese-fermented Maotai or Moutai is resembled by its rich & fiery taste. The nationally-recognized fan favorite dates all the way back to the Qing Dynasty of 1664, becoming the first Chinese liquor to be produced in a large-scale manner. As it gained popularity from the public and recognition from renowned institutions and organizations, Maotai has leapfrogged to the tip of the iceberg, generating over $15.9 billion last year from the sale of the clear & colorless liquor considered as the national spirit of the Chinese nation.
The company has risen so high that it is now embedded in the Chinese drinking culture, and their flagship, prestigious drink is favored by politicians and businessmen looking to impress. Why is it popular? To answer this question, it's worthy to note the main factor which has driven Kweichow Moutai to domestic market leadership and dominance. With a price tag of 1,498 yuan, or nearly $224 for a half-liter bottle, Kweichow Moutai adopts a marketing strategy where the supply of the beloved & sought-after drink is very limited.
By keeping supply tight and prices high, the grand drink retains sky-high demand. In 2021, an avid Chinese collector purchased a rare case of Moutai sold for over $1 million in London; the highest price anyone has paid at an auction for a single lot of Moutai outside China.
Recent Performance
Pre-COVID
Kweichow Moutai was on a smoothened road to success before the pandemic, and it wasn't the pandemic which has plunged the valuation of the company in 2021. In fact, the COVID-19 pandemic hasn't even scratched the company's financials, but the opposite. Its stock (SHA: 600519) has surged 85% in 2020, currently priced at around $277 apiece. The part state-owned part publicly-traded corporation is over three times more valuable than the UK-based Diageo, which owns an impressive collection of widely recognized and beloved alcoholic brands; Smirnoff, Captain Morgan, Baileys, Guinness and Black Label are just a few offerings.
Post-COVID
China's most valuable non-technology company has had a successful embarkment pre-COVID, and during the infamous pandemic as well. But the bearer of bad news was early & mid-2021. The company witnessed a devastating half-year, losing over 40% of its all-time-high valuation amid tightening regulatory scrutiny despite spectacular performance. Things started to light up for the top-notch drink, amid growing demand and popularity towards the end of 2021 which has driven the company's revenue and valuation upwards.
Fast-forward to the most recent fiscal quarter ended March, the company enjoyed net profits of 17.24 billion yuan ($2.57 billion), growing by 24% from the same time one year ago. Revenues of around $4.83 billion also represented an escalation of 18% year-over-year. Kweichow Moutai solidified its pioneering market position as China's most popular and most successful alcoholic brand, boosting its corporate image in the eyes of investors. As noted by analysts at Citibank, "Moutai's higher earnings visibility (on the back of strong brand equity) … superior cash flow offers investors unique access to well-protected & resilient earnings growth in China's consumer staples space".
Technical View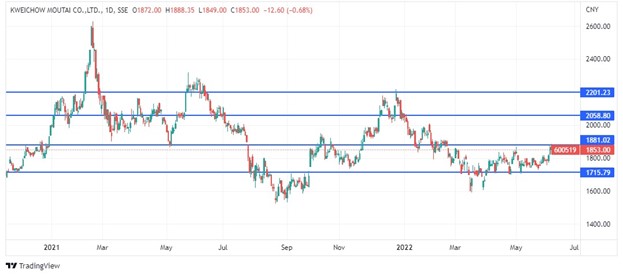 When perceiving the Kweichow Moutai stock (SHA: 600519) from a technical viewpoint via the TradingView-powered chart, it can be seen that the stock of the classy company may be on the course of long-term growth, but the short-term trend seems neutral. Currently priced at ¥1,853 ($227), the Kweichow Moutai stock is trading in the lower-middle part of its 52-week range, between a support level of ¥1,715 and a three resistance levels; a low one at ¥1,881, another at ¥2,058 and a higher resistance mark near ¥2,200.
The average consensus price target for the Kweichow Moutai stock derived from the efforts of analysts of renowned financial and analytical institutions, lies near ¥2,300. Given the high trading volume of the stock and robust fundamentals, it is expected that the stock of the Chinese liquor giant will soar in the near future. It's best to wait for an even more lucrative entry point before purchasing the stock, so keep your eyes on Kweichow for any revelations.
Looking Forward
Kweichow Moutai is working hard to fortify its leading market position, and is doing so via two endeavors which possess revolutionary potential;
1. The Power of E-commerce
In the contemporary world, e-commerce is a platform for exponential growth. On March 27th of this year, the leading liquor maker launched a direct-sales platform coined iMoutai, in efforts to renovate its marketing network. In the mobile application, Moutai offers much better pricing for a suite of products.
Just one day after it was launched, iMoutai became the most downloaded application on the Apple app store, with over 430,000 registered users in a matter of 24 hours. Today, the application has truly expanded the horizons of Kweichow, as over 10 million users have registered on the application and more than 25,000 baijiu bottles have been sold after just 19 days of the app's debut.
2. Ice cream?
Do not eat and drive. To capture younger customers, the Chinese drink-of-choice has undertaken a rather bizarre initiative and has launched its first ever Moutai ice cream store on May 19th in the lobby of Moutai's hotel establishments. The ice cream is infused with the sought-after throat burning sensation which resonates with Moutai fanatics.
Moutai is a status of wealth, and while the move may seem peculiar, its low price of 39 yuan ($5.80) has sparked a new trend that may present the prestigious brand as a rather humble corporation which embraces affordability. A Hunan-based user commented on Weibo, "That's great, people like me who love ice cream and want to drink Moatai but can't afford it". "If you can't drink Moutai, then you can eat ice cream," another user wrote.
All in all, such initiatives can bolster the market dominance of Kweichow in different segments, while still preserving its identity and brand image. Who knows, Kweichow may grow in the fresh European markets it has tapped into since 2018, and can be a fierce competitor of globally-recognized alcoholic brands in the coming years.
Written by Lưu Đỗ Hoàng Anh, financial analyst of Alpho
Disclaimer: Trading in leverage products carries a high level of risk and may not be suitable for all investors. Past performance of an investment is no guide to its performance in the future. Investments, or income from them, can go down as well as up. You may not necessarily get back the amount you invested. All opinions, news, analysis, prices or other information contained in our communication and on our website, are provided as general market commentary and do not constitute investment advice, nor a solicitation or recommendation to buy or sell any financial instruments or other financial products or services.