Ongoing geopolitical tensions in Eastern Europe has worsened the global semiconductor chip shortage which has loomed on major tech tycoons for a prolonged period. The Taiwanese TSMC is a pioneer in manufacturing these chips and distributing them across the globe. How has the company been doing recently, and what can we expect for the future of TSMC? We continue with brands out of our study TOP 20 of the twenties
Chip Shortage
The semiconductor-chip shortage has smitten the world, hampering many industries and their aspirations. From smartphones to electric vehicles, many products of the contemporary era are dependent on semiconductor chips. This is where the Taiwanese TSMC shines, as it's a leader in the chip industry, with Nvidia, Qualcomm and Apple regarded as just some of TSMC's clients. The company provides over 11,000 unique products, including central processing units (CPUs), drivers and network interface controllers.
However, recent geopolitical conundrums, complications and conflicts have added fuel to the fire. Semiconductor chips have become more constricted than ever. Half of the world's neon output for chips have been halted, and the already-strained supply of chips appears to be worsening. This affects the 3rd largest semiconductor producer in the world after Intel and Samsung, and the world's largest independent manufacturer of semiconductor products.
Recent Performance
In the fourth quarter of the 2021 fiscal year, TSMC generated $6.03 billion in profit margin versus the $5.87 billion expected by analyst consensus. Revenue has also surpassed expectations, up over 24% year-over-year. At the time, chip demand was accelerating amid rising Omicron coronavirus variant infections, with smartphone, laptop and other gadget production booming across many tech-focused industries.
The Taiwanese giant also generated over $6 billion in revenue in January of 2022, which is up a significant 35.8% from the same time last year. In February, the company enjoyed less revenue when compared to the figures of the previous month, amounting to around $5.2 billion, which is still 37.9% higher on a year-to-year change.
Fundamental Analysis
TSMC generates superior profit margins, not only due to the rapid rise in demand for its chips, but also through the economies of scale the company enjoys, as it maintains low production costs by manufacturing its products in Taiwan. The company has a profit margin of 38%, which is better than 95% of all other competitors in the same industry focused on chips.
The chip pioneer is also exhibiting strong & consistent growth over the past five years. Earnings per share has grown by 15.2% the past year, and revenue has escalated 18.5% in the last year. This is quite impressive, and analysts of various financial and investment-focused institutions believe that TSMC will continue to exhibit accelerating growth over the next years.
Technical View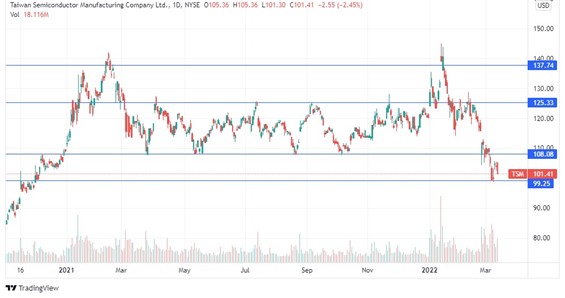 Looking at the TSMC (NYSE: TSM) stock from a technical perspective, the stock is trading negatively in both the short and long-term trend. Currently priced at $101.4 apiece, the stock is trading between a support level of $99.25, and two resistance levels; one at $125 and another higher one at $137.
Average analyst price target consensus from various renowned institutions, including Atlantic Equities, Cowen & Co. and Argus Research, expect the stock to hit $139 on average, $170 as a high estimation and $123 as a low target. This is good news for the Taiwanese tycoon, as analysts expect the stock to escalate at least 21% in the near future and up to 70%.
Future Expectations
TSMC has several plans lined up for the future, from research & development to improve current products, to expanding production in Japan and mass-producing the new & improved 3 nano-meter chips, the plan which has stolen the spotlight is its mind-boggling plan to invest up to $44 billion in new capital expenditure (capex) spending.
The record spending plan is aimed to meet the rising demand for semiconductor chips in multiple industries, and TSMC targets intensified production of chips. In doing so, when looking at the bigger picture, TSMC can surpass Samsung and potentially Intel, to take the throne of the world's largest semiconductor chip manufacturer. Hand-in-hand with surging demand for chips can be good news for TSMC, should it have the supplies necessary to manufacture the extremely sought-after pieces of tech gold, which are used in TVs, smartphones, electric vehicles and other techs in a world heavily exhausted by technology.
Disclaimer: Trading in leverage products carries a high level of risk and may not be suitable for all investors. Past performance of an investment is no guide to its performance in the future. Investments, or income from them, can go down as well as up. You may not necessarily get back the amount you invested. All opinions, news, analysis, prices or other information contained in our communication and on our website, are provided as general market commentary and do not constitute investment advice, nor a solicitation or recommendation to buy or sell any financial instruments or other financial products or services.