Royal Dutch Shell plans to abolish the double share system in favor of one share class. The company said they wanted to increase shareholder payouts and simplify its structure with the change.
The tax residence will be relocated to the UK and company will allegedly remove the words "Royal Dutch" from its name. This change should make company and its operation more efficient. Board and Executive Committee meetings should also be relocated to the UK. Shell is undergoing significant changes, not only because of the pandemic but also reason is the environmental goal of moving away from fossil fuels.
The company is reducing capital expenditures, selling assets and cutting dividends for the first time since World War II. The new changes are the result of the need to reallocate investment resources to cleaner technologies and eliminate structural inefficiencies.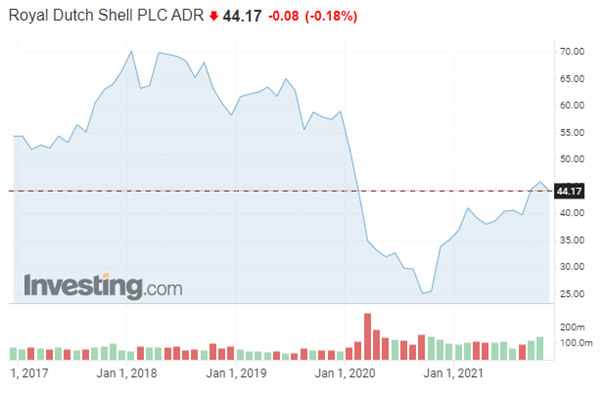 Performance of Royal Dutch Shell PLC ADR over 5 years (Source: Investing.co