At first, Tobias Lutke and Smoot Lake decided to create an online store in 2004 for selling snowboarding equipment. The duo did not know that they were going to establish the largest e-commerce platform in the world. Today, Shopify is the largest company in terms of capital in Canada, and 128th globally, currently worth over $109 billion.
The Shopify platform today hosts more than 325,000 stores, belonging to startups striving to create a presence for themselves, as well as renowned internet giants such as Tesla & Google. Shopify enjoys a monthly profit exceeding $20 million through its trusted and popular service.
Although Shopify is not a new company, it was listed on the stock market 6 years ago, with its IPO (initial public offering) occurring on the 20th of May, 2015 on the New York Stock Exchange (NYSE) and the Toronto Stock Exchange (TSX). More than $131 million was raised from the IPO, with funds stemming from investors and corporations which believed in the future potential of Shopify.
The Shopify platform also provides various services, such as the Shopify Plus service, which is an e-commerce platform for enterprises and large companies looking to expand. The company also provides advanced reporting features, high priority customer support, the ability to deal with large order volumes and many more, and Shopify Lite, which allows the selling of products on an existing website.
Fundamental Analysis
In terms of performance, the Shopify stock has a very great long-term performance, but the stock's performance in the recent period was weak. Despite that, the stock achieved a rise of 1,573% within 5 years and 411% within three years. During 2021, it jumped by 22%, but the stock fluctuated in recent months and fell about 40% within six months.
In the last year, Shopify showed a strong growth in earnings per share by 137%, in the past five years, it showed a growth of 197% on average annually. The company's revenue grew by 46% year-over-year, which is considered one of the best in the field. During the next five years, the stock is expected to grow by 27% annually.
Technical Analysis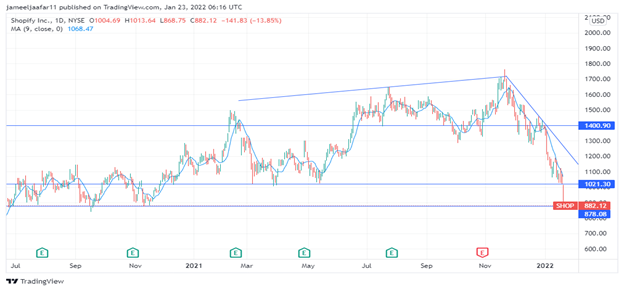 In general, the technical performance of Shopify in the medium and short range is negative. The stock is moving in a downward path after it announced in its latest earnings report, which was disappointing and worse than expected in general.
In the chart above provided by TradingView, we can notice an important support area at $878 as well as several resistance areas. One ranges from $1,231 to $1,285, the second is at $1,400, and the third is a higher resistance level hovering near $1,700.
Future Shopify Plans
Shopify aims to implement a differentiated pricing strategy, with the goal of taking advantage of its new & innovative technology, which will allow the e-commerce king to retain its existing customers by providing exceptional service, while also attracting new clientele with other value propositions.
Attracting new clients through different marketing campaigns, such as raising awareness of environmental issues, may open up new business opportunities for Shopify, which in-turn gives the Canadian business a lucrative opportunity to diversify into new product categories, as well as generating new revenue sources.
Finally, despite the recent decline in the stock and the challenges facing the company, there are great expectations regarding the stock from several renowned banks. Goldman Sachs expect the stock to rise to $1,570, and Pepper Sandler Bank expect it to jump to $1,650, from the current share price of $882.
Sources: Shopify.com – Forbes – MarketBeat – Investors – TradingView
CFDs are complex instruments and come with a high risk of losing money rapidly due to leverage. You should consider whether you understand how CFDs work and whether you can afford to take the high risk of losing your money.