Today is the day when Tesla will publish results for the second quarter. If Tesla publishes second quarterly profit, it will lead to its inclusion in the S&P 500. Analysts expect the company to have lost 19 cents a share on revenue of $5 billion in the quarter after the closing bell.
In the case of Tesla's including in the S&P 500, a multitude of passively-managed funds will be forced to include stock in their portfolio. Speculation on S&P 500 inclusion has been a major factor behind the stock's 60% rally since late June.
Tesla CEO Elon Musk has met $2.1 billion. Tesla, according to the market capitalization of the largest carmaker in the world, reached the market capitalization of the company of almost $300 billion.
Under the agreement, Musk will acquire a total of 20.3 million share options with an estimated value of $56 billion in 12 tranches over the next ten years, provided that it achieves many targets and operating objectives, including that Tesla's market value will rise by 2028. to $650 billion at a steady rate of market capitalization growth of $50 billion every ten months.
Interestingly, Musk as a director does not regularly receive any salary, cash rewards or capital. His only compensation is a reward, which, however, he receives only if the company manages to meet the set goals.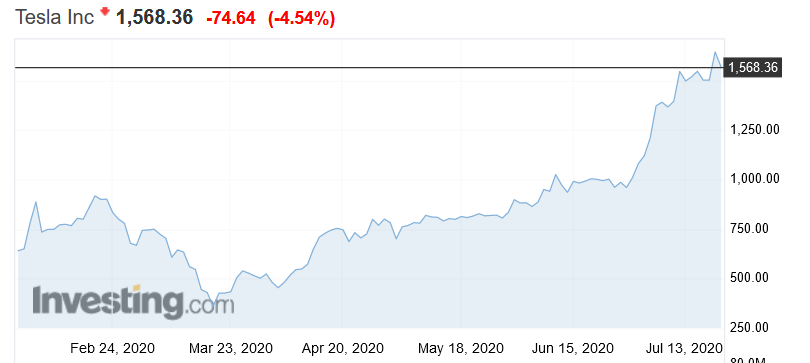 Source: Investing.com