The global shortage of semiconductor chips has hugely impacted the world's economy and there are raising concerns that the crisis will not have been ending up in 2022, Alpho reports. The prices of chips are expected to rise next year, which in turn, bumps the price of the electronic devices they power. In fact, prices of semiconductors have been escalating since the last quarter of 2020.
Known for its cutting-edge technology & quality, TSMC as the market leader is set to hike chip prices by up to 20% according to Wall Street Journal. This price surge would in turn go to the end customer of major technology outlets, such as that of Apple and Samsung. According to Gartner, the worldwide semiconductor shortage is expected to last until the second quarter of 2022.
While there is an array of international chipmaking firms, such as Intel, Broadcom and Nvidia, the vast majority of the semiconductor outsourcing market, also known as the foundry market, is dominated by Asia. In specific, the Taiwanese TSMC (Taiwan Semiconductor Manufacturing) has stolen the spotlight of the foundry market, which regards major tech giants including Apple, Qualcomm and Nvidia as its clients. In fact, TSMC accounted for 54% of the total foundry revenue on a global scale in 2020. The chart below, provided by TrendForce, exhibits the global market share of semiconductor contract manufacturers: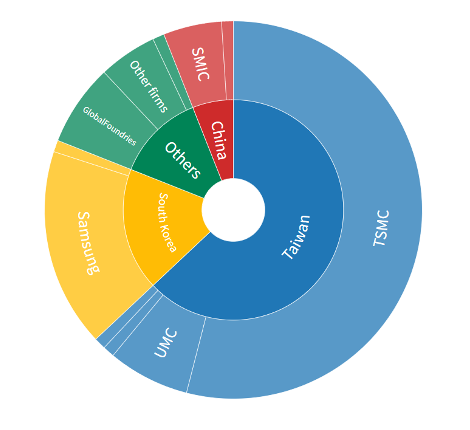 · TSMC: 54%
· Samsung: 17%
· SMIC: 6%
· Others: 14%
Adding up the figures, Asia clearly takes over the semiconductor chip playfield, accounting to 87% of the world's total chip exports. The supernation is clearly Taiwan, with many companies outsourcing their chip manufacturing to the Asian nation.
However, it still is not clear whether the Asian dominance on the chip world will diminish, despite major investment plans from non-Asian makers such as Intel in scaling up production, in attempt to capture some of the Asian-dominated market share.
What are Semiconductors?
To get into the nitty gritty of it, semiconductors are silicon-made material products which conduct electricity more than an insulator, such as glass or wood, but less than a pure conductor, such as aluminum or steel. Semiconductors act like tiny electronic switches which run computations inside technology products. This sophisticated creation is found in thousands of electronic products, from gaming consoles and microwaves to datacenters powering the internet.
Lack of Semiconductors & The Impact of Chip Shortages
On a global scale, there has been a recent lack of semiconductor chips as automaker factories were forced to halt production amid the spread of COVID-19. This resulted in a big fraction of the workforce beginning to work from home, causing an explosive burst in demand for devices, and such demand was beyond what manufacturers could provide.
The semiconductor shortage has impacted many industries, especially the auto industry. This means delayed car delivery orders, and limited supply. Recently, Japanese automakers reported tumbling sales in China as the chip shortage hit vehicle production hard. Honda's car sales in China for September were down 28% from the figure a year earlier, Nissan realized a 26% drop in September China-sold cars and Toyota witnessed a 36% decline. The semiconductor shortage has also hit many other industries, such as the smartphone world. Apple recently announced that they will likely slash production of its iPhone 13 by up to 10 million units due to the global chip drought, as chip suppliers including Broadcom and Texas Instruments are struggling to meet the overwhelming semiconductor chip demand.
Lưu Đỗ Hoàng Anh, Alpho Financial Analyst
Licences and Authorisation:
Alpho is a brand of Gulf Brokers Ltd. a limited liability company regulated as a Securities Dealer by the Seychelles Financial Services Authority of Seychelles ("FSA") with license number SD013 to carry out certain categories of financial investment business as permitted under the Seychelles Securities Act 2007.
Risk Warning:
Trading in leverage products carries a high level of risk and may not be suitable for all investors. Past performance of an investment is no guide to its performance in the future. Investments, or income from them, can go down as well as up. You may not necessarily get back the amount you invested. All opinions, news, analysis, prices or other information contained in our communication and on our website, are provided as general market commentary and do not constitute investment advice, nor a solicitation or recommendation to buy or sell any financial instruments or other financial products or services.