Another country that Russia has bypassed is Poland. The company did not make any reservations for gas pumping capacity through Poland. This is the Yamal-Europe gas pipeline and the same time period as for Ukraine.
Gas prices have risen to record highs recently. The price is mainly affected by the sharp economic recovery, low inventories and, last but not least, the reactions of the Russian energy giant. Putin is still awaiting approval of the Nord Stream 2 gas pipeline, saying that Gazprom will start supplying more natural gas to the EU only when it has filled its own reserves.
Nord Stream stretches across the Baltic Sea to Lubmin, Germany, without Ukraine or Poland. The only thing that prevents the launch is the approval of the regulatory authorities, after which the supply of an estimated 55 billion cubic meters of natural gas to Europe can start each year.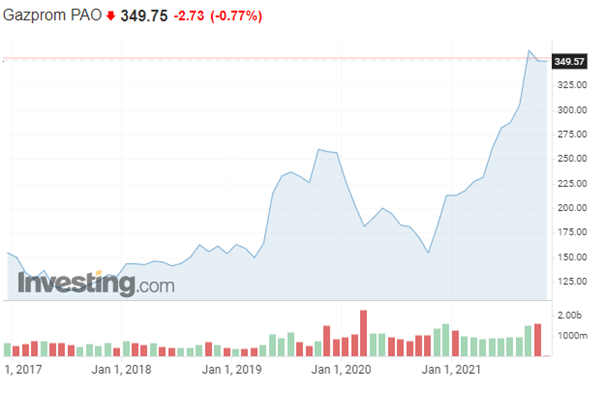 Performance of 5 years for Gazprom (Source: Investing.com)