The positive wind on the appreciation of euro and also had tweet "Deal" shortly after the 27 leaders finally reached an agreement from summit chairman Charles Michel. Everything is the result of reports of a nascent compromise over a European coronavirus rescue package totalling € 750 billion.
However, after the official end of the talks, opponents of direct subsidies at the expense of loans were willing to reduce the volume of grants to 390 billion euros, Bloomberg quoted EU officials as saying. Subsequently, Bloomberg brought reports that the new proposal will be accepted by the "saving group". It previously lobbied for a reduction in the volume of loans provided up to 350 billion euros, Michel's proposal provided for 450 billion in direct grants and another 300 billion in loans.
The second positive aspect of financial markets was positive data from an array of COVID-19 vaccine candidates had lifted the pan-European STOXX 600 index approximately 0,99% per cent higher on pre-market.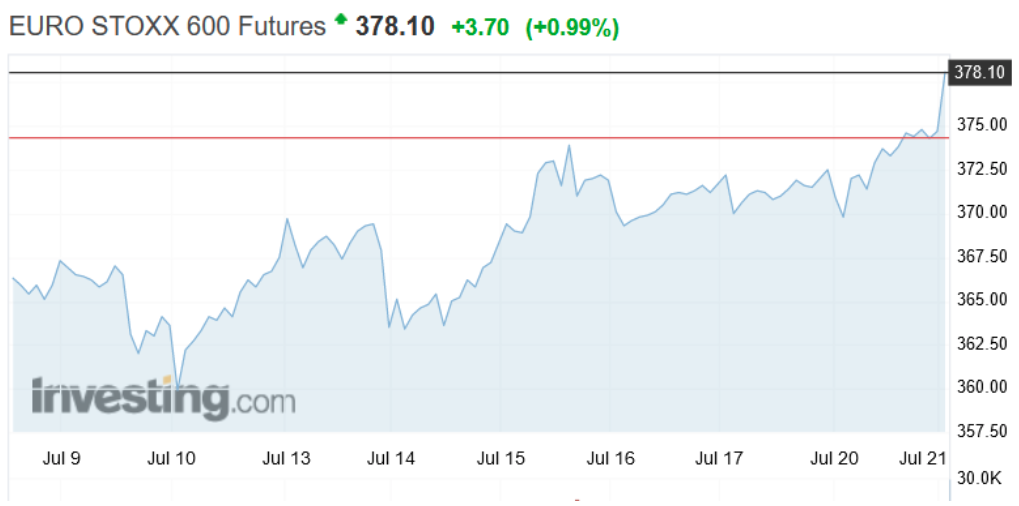 Source: Investing.com