The European Commission imposes tariffs on Imports of 19% from China, 17.3% Indonesia and 7.5% Taiwan. The reason is that according to EK they found that stainless steel coils and sheets imported from China, Indonesia and Taiwan are sold at artificially low prices. In response, it responded by imposing anti-dumping tariffs, which entered into force on Thursday.
Cheap imports from these countries hit Belgium, Italy and Finland the hardest. Customs duties are therefore intended to repair the damage caused to European producers by the importation of low-cost products.
Following this, steelworks demonstrations took place across Europe in early October to defend the European steel industry, with the common slogan "Europe needs steel, steel needs Europe". Europe's steel producers were already buckling under a market downturn before the arrival of coronavirus, which further sapped demand as car factories and building sites temporarily closed.
Trade unionists say that imported steel from outside the EU threatens European steel mills and that the Union does not extend safeguard measures. At present, the measures are due to end next year in June, and if the European Commission's representatives do not agree on others, this will mean the loss of many companies and hundreds of thousands of jobs.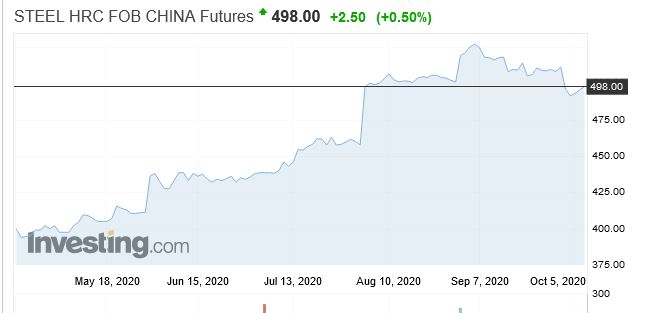 Performance of steel HRC FOB China futures (Source: Tradingview.com)