30 December 2021 – Alpho, the award winning international broker, has introduced its new study Asian Brands of the Twenties. The research has indicated that Asia will soon take over the role of global economic center from the United States and Europe. This new superpower's rise is driven by companies that are leaders in their markets.
Alpho finds Saudi Aramco on the top of the ranking. The Saudi oil and gas company also strengthens in the renewable energy sector in recent years. On the other hand, Saudi Aramco is an example of a company that has been hit relatively hard by the coronavirus pandemic. In contrast, companies with a diverse portfolio or responsiveness to changing market conditions have hardly felt the impact of the coronavirus crisis. It is obvious that such companies include technology or multidisciplinary companies such as Tencent Holdings, Alibaba Group, but also Samsung or the Indian group Tata Group, which operates in various industries from metallurgy, through car manufacturing to tourism or food.
In the future, Chinese companies can be expected to consolidate their position. However, companies from other countries, which are currently undergoing an economic boom, are most likely to start to rise. It is mainly India, which is currently the sixth largest economy in the world. In addition, India has enormous human potential. Not only because it is the second most populous country in the world, but also because of favorable age structure of the population and the ongoing reforms that are moving India towards the developed world.
Other countries in the region, such as Indonesia, Vietnam, Malaysia, Singapore and Thailand, will become increasingly important as well.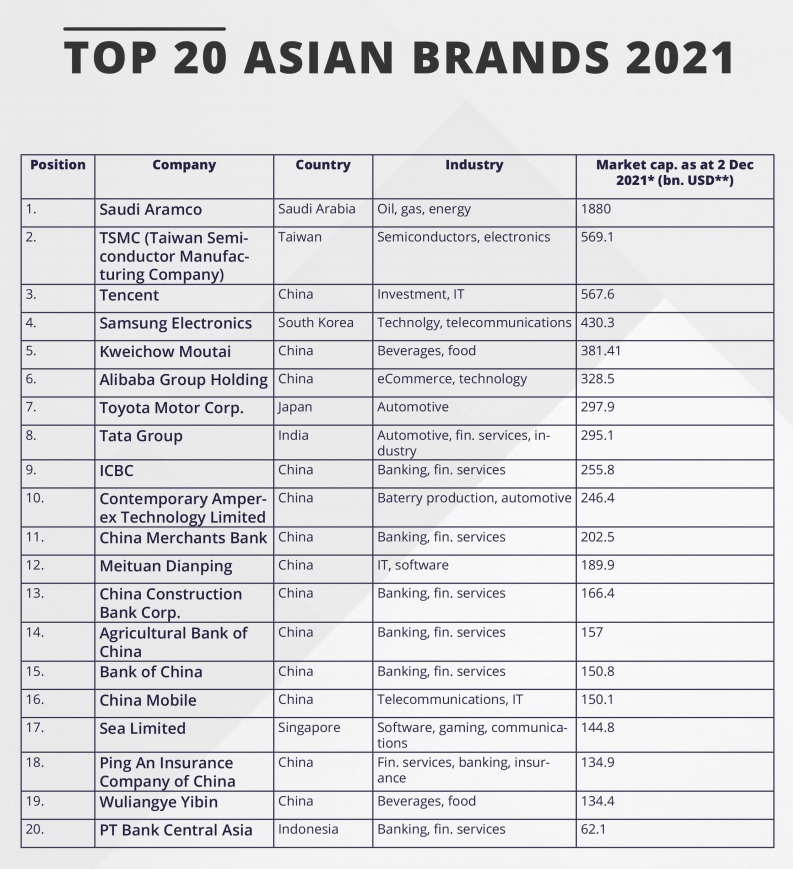 Learn more in the study Asian Brands of the Twenties which is free to download in the Research section at alpho.com or directly here.
Alpho is a licensed and regulated broker. Located in a stable and secured marketplace, Alpho is an excellent choice to participate in global trading. Alpho is a multiple award winning broker. Recently, Alpho has won the Best CFDs Broker and the Best Retail Forex Broker awards by the Forex Expo in Dubai 2020.
Source of the data in the chart attached: https://finance.yahoo.com/, 2 December 2021
Trading is risky and your entire investment may be at risk. TC's available at https://alpho.com/.