The multinational technology & entertainment giant coined as Tencent, is the most valuable firm in China, with an impressive market capitalization of $453 billion. The company is comfortably at the top of the podium. Second place Kweichow Moutai, which sells high-end Chinese liquors, is $114 billion away from reaching the high valuation of Tencent. What makes Tencent so successful, and how is the Chinese firm performing recently?
The Pillars of Tencent
Founded in 1998, the Shenzhen-based company specializes in an array of tech-focused pillars, including video gaming, stream and cloud services, advertising, social media and entertainment. Tencent is the mother company of some incredibly popular companies and services, such as the locally & globally recognized WeChat, which is among the fastest-growing social applications. WeChat has over 1 billion active users, and it's not just a chatting platform. The application also hosts a payment gateway, shopping mechanism, games, file transfer, among other services.
Other pillars of Tencent's colossal empire revolve around smart retail, healthcare, transportation and education via its Cloud & Smart Industries Group. The Chinese conglomerate is also huge in the gaming world. It owns the renowned Epic Games, Riot Games, Ubisoft, Activist Blizzard, Supercell, and even Discord.
The success of Tencent stems from many tech-focused spheres, but how has the conglomerate been performing in the latest quarters?
Recent Performance
In the third quarter of 2021, Tencent posted a 3% rise in net profit, which topped analyst expectations of the Chinese giant's performance. Net profits from July to September escalated to 39.5 billion yuan ($6.18 billion), which is close to 13% more than Refinitiv analyst forecasts. However, revenue climbed 13% to 142.4 billion yuan, which is a juggernaut of a figure but fell slightly short of projections.
Tencent felt the impact of Beijing's year-long repression of the internet industry, which has slowed down advertising initiatives and in-turn, slashing billions of dollars from its market value.
In the fourth quarter, the company struggled to achieve the high standards set by analysts & institutions. The most recent quarter witnessed Tencent's slowest quarterly revenue growth in the history of the company. Revenue was 144.18 billion yuan ($22.62 billion) against the 147.6 billion yuan predicted. This is up 8% year-over-year, marking the slowest revenue growth since the initial public offering of the company in June of 2004.
The regulatory tightening of Beijing on the nation's tech sector continued to impact not only Tencent, but all firms which operate under the technology & internet umbrella. Specifically, the strongest revenue driver of Tencent, online games, has faced turbulence.
Under 2019 rules, kids & teens were allowed to play games for 1-and-a-half hours a day, but China has tightened the rules even further in late 2021. Anyone under 18 years old could only play for three hours a week; it doesn't need to be explained how such rules affect Tencent's domestic gaming business.
On the bright side, international gaming revenues escalated 34% to the equivalent of $2.1 billion, as the launch of new content for the games of Valorant and Clash Royale increased play-time and in-app purchases.
Technical Analysis & Price Target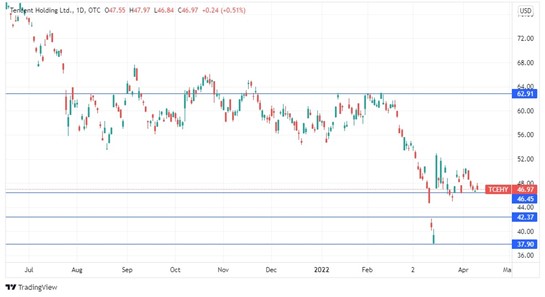 From a technical perspective, the Tencent (OTCMKTS: TCEHY) stock is not looking too attractive. The long-lasting bullish trend has been hammered in early 2021, and it has turned to a red bearish ever since. Currently priced at $46.97 apiece, the Tencent stock is trading in a downward-trending trajectory, between support levels at $37.90, $42.37 and $46.45, and a high resistance level lying near $63.
Analysts at Wall Street Journal expect that the Tencent stock will escalate to $64.07, with a low estimation of $33.87 and a high target of $85. Hand-in-hand with the company's consistent innovative capabilities and initiatives, the multinational Chinese behemoth can get back on its feet in the near future and reach the previous highs investors and traders are highly familiar with.
Lưu Đỗ Hoàng Anh, Financial Analyst from Alpho
Disclaimer: Trading in leverage products carries a high level of risk and may not be suitable for all investors. Past performance of an investment is no guide to its performance in the future. Investments, or income from them, can go down as well as up. You may not necessarily get back the amount you invested. All opinions, news, analysis, prices or other information contained in our communication and on our website, are provided as general market commentary and do not constitute investment advice, nor a solicitation or recommendation to buy or sell any financial instruments or other financial products or services.