Temukan Saham
Perdagangan saham sebagai Contract for Difference (CFD) adalah salah satu metode perdagangan yang paling disukai. CFD menawarkan kesempatan bagi pedagang untuk membuka posisi panjang atau pendek, karena mereka tidak memiliki saham secara fisik dan subjek perdagangannya adalah perubahan harga aset dasar.
Alpho menawarkan perdagangan CFD dari perusahaan besar seperti Apple, Bank of America, eBay atau Google. Manfaat dari perdagangan tersebut adalah likuiditas tinggi, sejumlah besar berita dan ringkasan harian yang terkait dengan semua perusahaan yang diperdagangkan. CFD memungkinkan Anda untuk berdagang dengan spread terendah dan leverage yang mudah digunakan.
| INSTRUMENT | COMMISSION* % OUT OF VOLUME | 1 LOT | MIN. TRADE | TRADING HOURS (CET) |
| --- | --- | --- | --- | --- |
Tepat setelah Anda membuka atau menutup posisi trading Anda, spread akan dipotong dari akun Anda, yang merupakan selisih antara harga ask dan bid saat ini. Harap diperhatikan: Alpho berhak untuk menaikkanspread sesuai dengan kebijakannya, mengurangi leverage, menetapkan batas maksimum order dan total eksposur klien. Alpho juga berhak untuk meningkatkan margin dalam situasi ketika kondisi pasar mengharuskan demikian.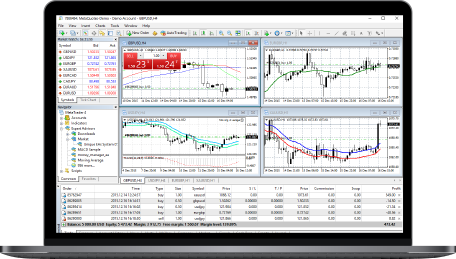 Platform Trading
MetaTrader 5
Platform Multimarket yang memenuhi
permintaan Broker dan Trader
Sebuah sistem perdagangan baru
yang memiliki produktivitas dan fleksibilitas tinggi
Pengalaman perdagangan
terbaru yang inovatif dan mulus